Posted by CBD LION on on Sep/Fri/2021
The Most Popular CBD Strength
CBD is one of the most popular and well-known compounds in cannabis. It has a wide range of uses, from medical to recreational. But what CBD strength should you be using? Here are some things you need to consider: The higher the CBD strength, the more potent it becomes. Some people like this as they can take less; others prefer lower strengths for cost efficiency purposes or because they do not want such a strong sensation on their body.
Types of CBD Products
When it comes to different CBD products, they can be broken down into four basic types. Sublingual, Topical, Edible, and Inhalation. Each category has its unique benefit, onset time, and concentration of CBD.
Sublingual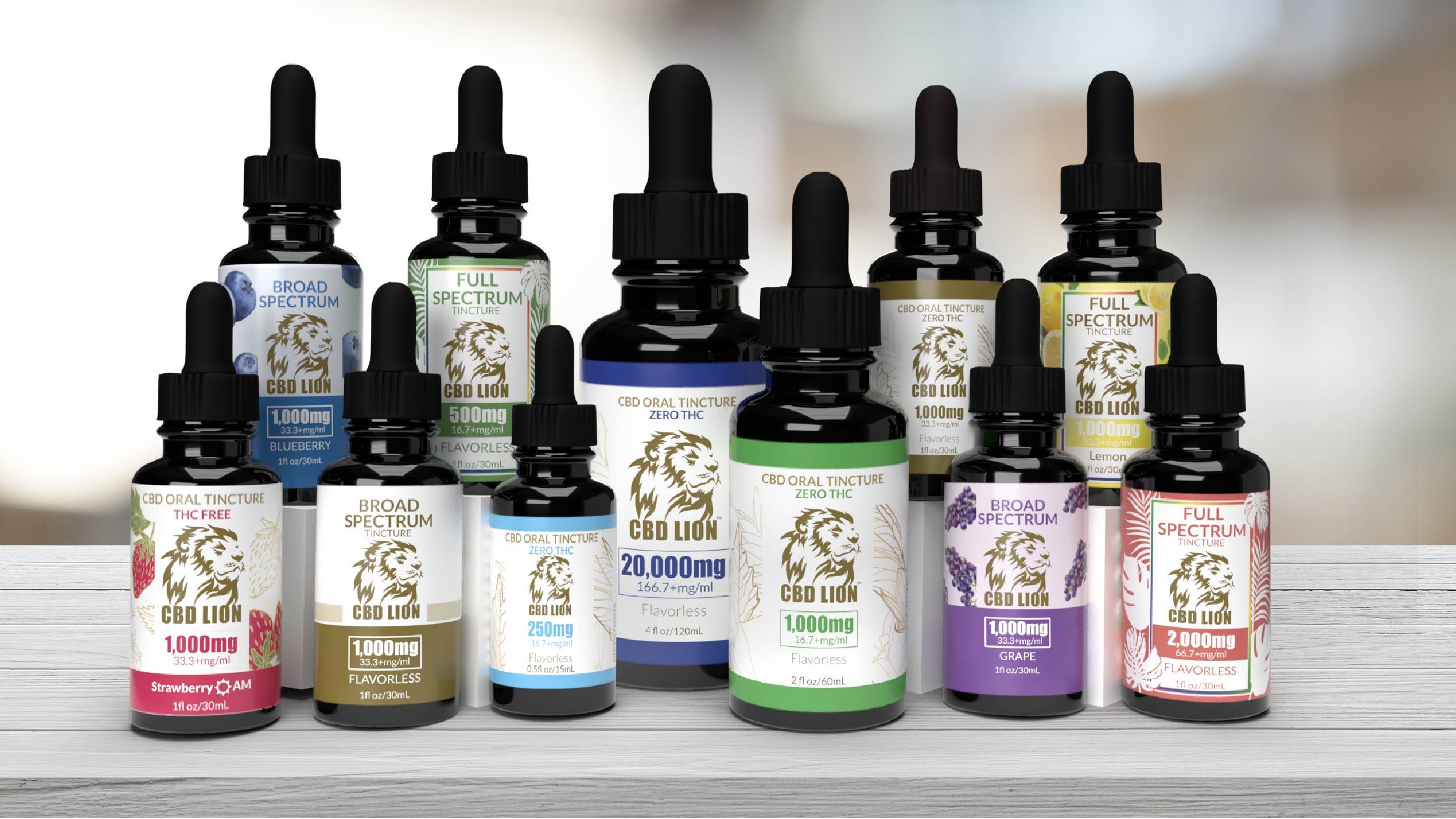 Sublingual products are known as CBD oil or tinctures. They are taken by dropping the oil under your tongue and letting the blood vessels absorb the CBD. Tinctures come in Isolate, broad spectrum, and full spectrum CBD oil versions. They also have the widest variety in CBD oil strength and flavors.
Topical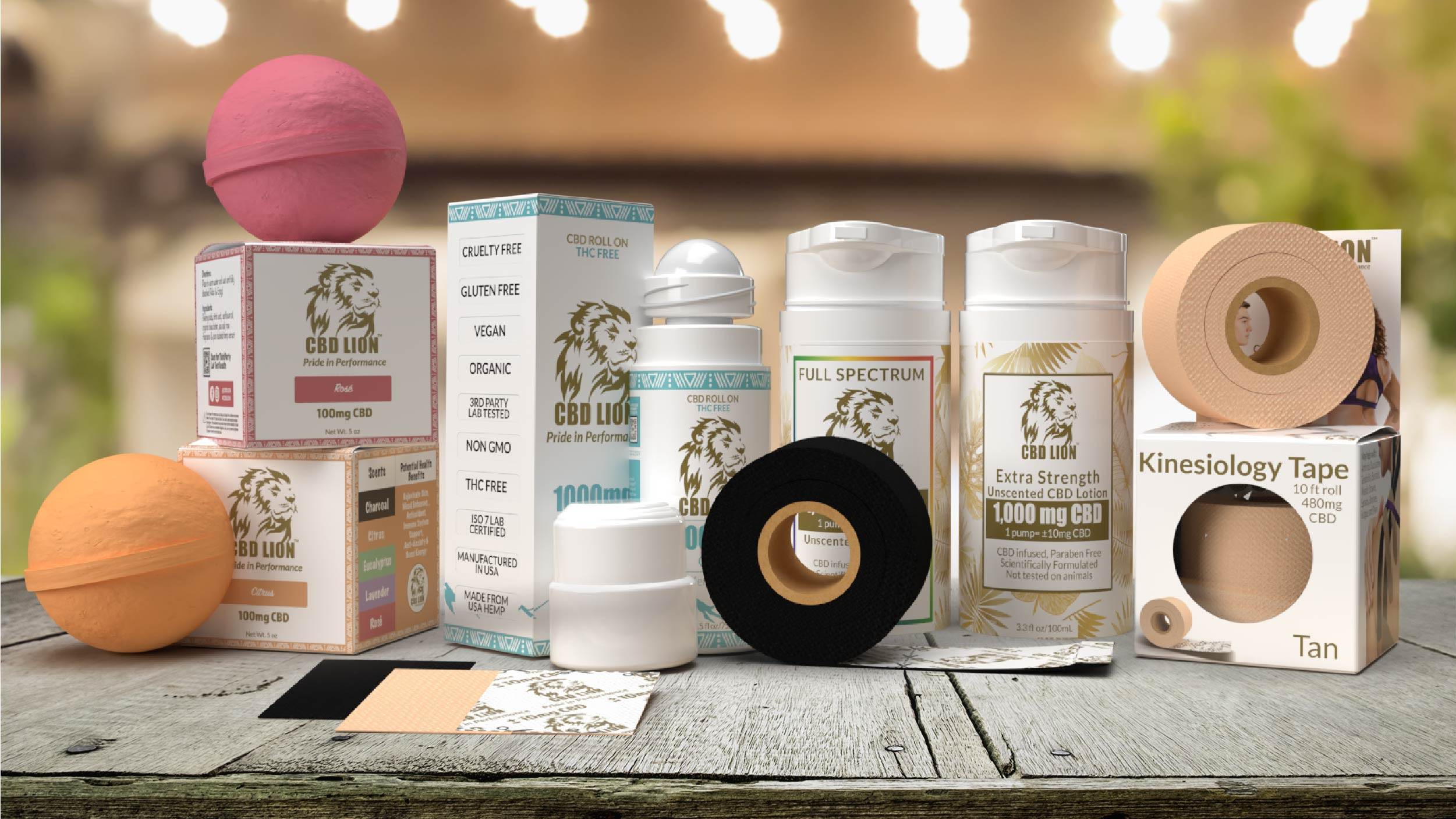 Topical products consist of CBD lotion, roll-on, sports tape, patch, and bath bombs. All of these products absorb CBD through the skin. The significant benefit for topicals is the ability to concentrate the CBD oil specific areas you want relief.
Ingestion
CBD products you consume by eating and are processed by your stomach are ingestion products. Everyday ingestible products are Gummies, Chocolates, and Capsules. They are easy to take and often delicious!
Inhalation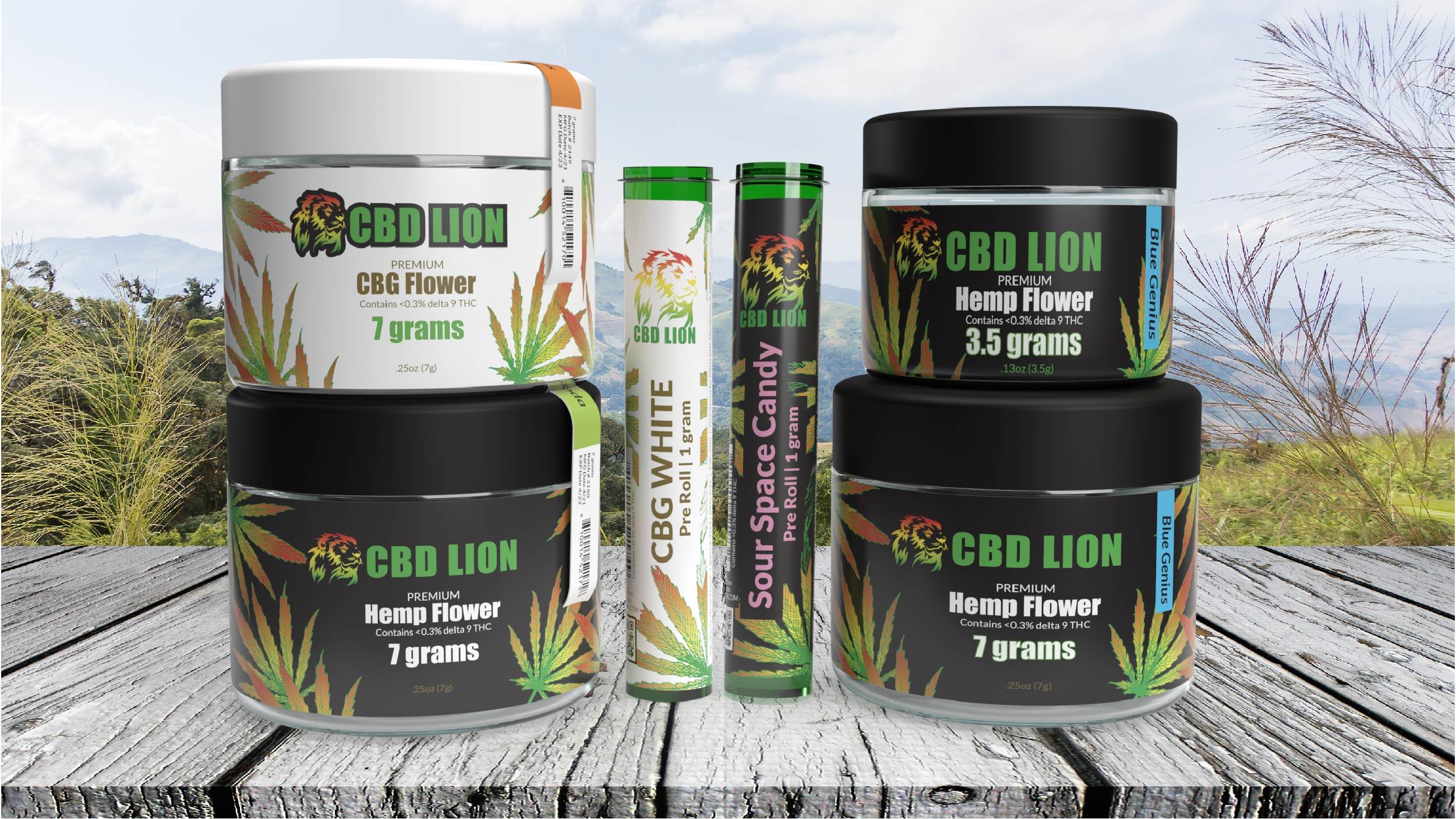 Products that you smoke or vape are inhalation products. The smoke or vapor produced by the product contains CBD and is absorbed by the lungs. It was one of the most common original CBD products.
Common CBD Strengths: Tinctures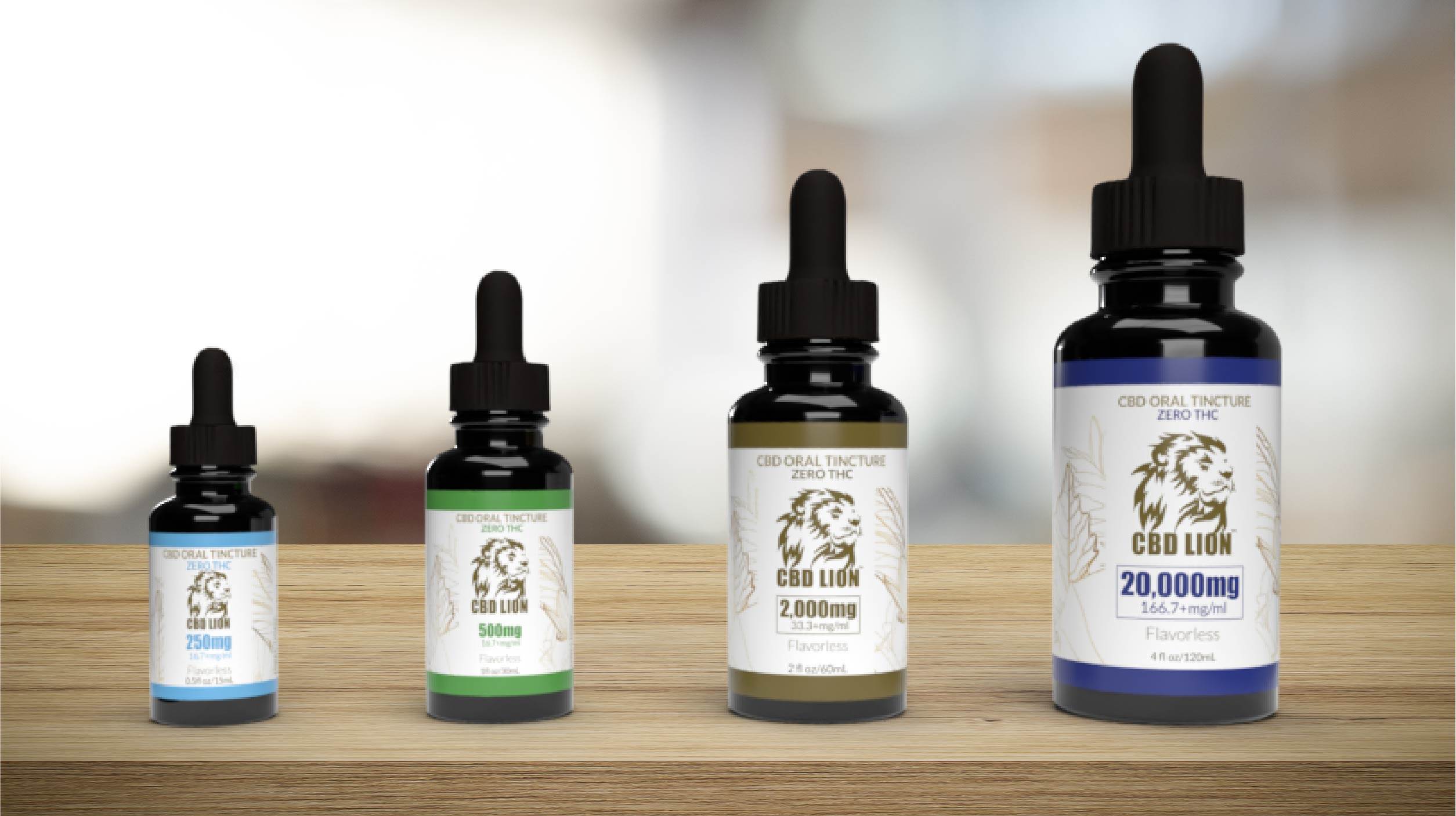 CBD oil tinctures are found in multiple strengths. Their ingredients consist of MCT oil and one of the three types of CBD.
16.7 mg CBD per 1 mL
The 16.7mg of CBD per mL comes out to 500mg of CBD per 30 mL bottle. It's considered an entry level CBD oil.
At CBD LION, this concentration is available in two sizes 15mL with 250mg of CBD and 30ml at 500mg. The 250mg comes in an isolate and broad spectrum version, whereas the 500mg comes in Isolate, broad spectrum, and full spectrum CBD oil.
33.3 mg CBD per 1 mL
The 33.3mg of CBD per mL comes out to 1000mg of CBD per 30 mL bottle. It's considered a mid-strength level CBD oil.
At CBD LION, it's available in a variety of forms. There are both unflavored and flavored versions. The flavored versions come in 500mg of CBD in 15mL bottles and 1000mg in a 30mL bottle. The 15mL version is only available with an Isolate CBD base. The 1000mg version is available in Isolate, Broad Spectrum, and Full Spectrum in both flavored and unflavored CBD oil. The Isolate and full spectrum unflavored CBD oil also come in larger bottle options of 60mL and 120mL.
66.7 mg CBD per 1 mL
The 66.7mg of CBD per mL comes out to 2000mg of CBD per 30 mL bottle. It's considered a mid-high strength level CBD oil.
CBD LION's 66.7mg line is only available as an unflavored CBD oil. It does come in Isolate, Broad Spectrum, and Full Spectrum CBD oil. The isolate and full spectrum versions also come in larger bottle options of 60mL and 120mL.
166.7 mg CBD per 1 mL
The 166.7mg strength is one of the highest potency CBD oil on the market. This dosage is considered high strength CBD oil.
Here at CBD LION, the 166.7 mg of CBD per mL is the most potent CBD oil we produce. It's available as an Isolate and Full spectrum CBD oil. The Isolate has more extensive bottle options at 60mL and 120mL. The 120mL tincture contains 20,000mg of CBD per bottle!
Common CBD Strengths: Topical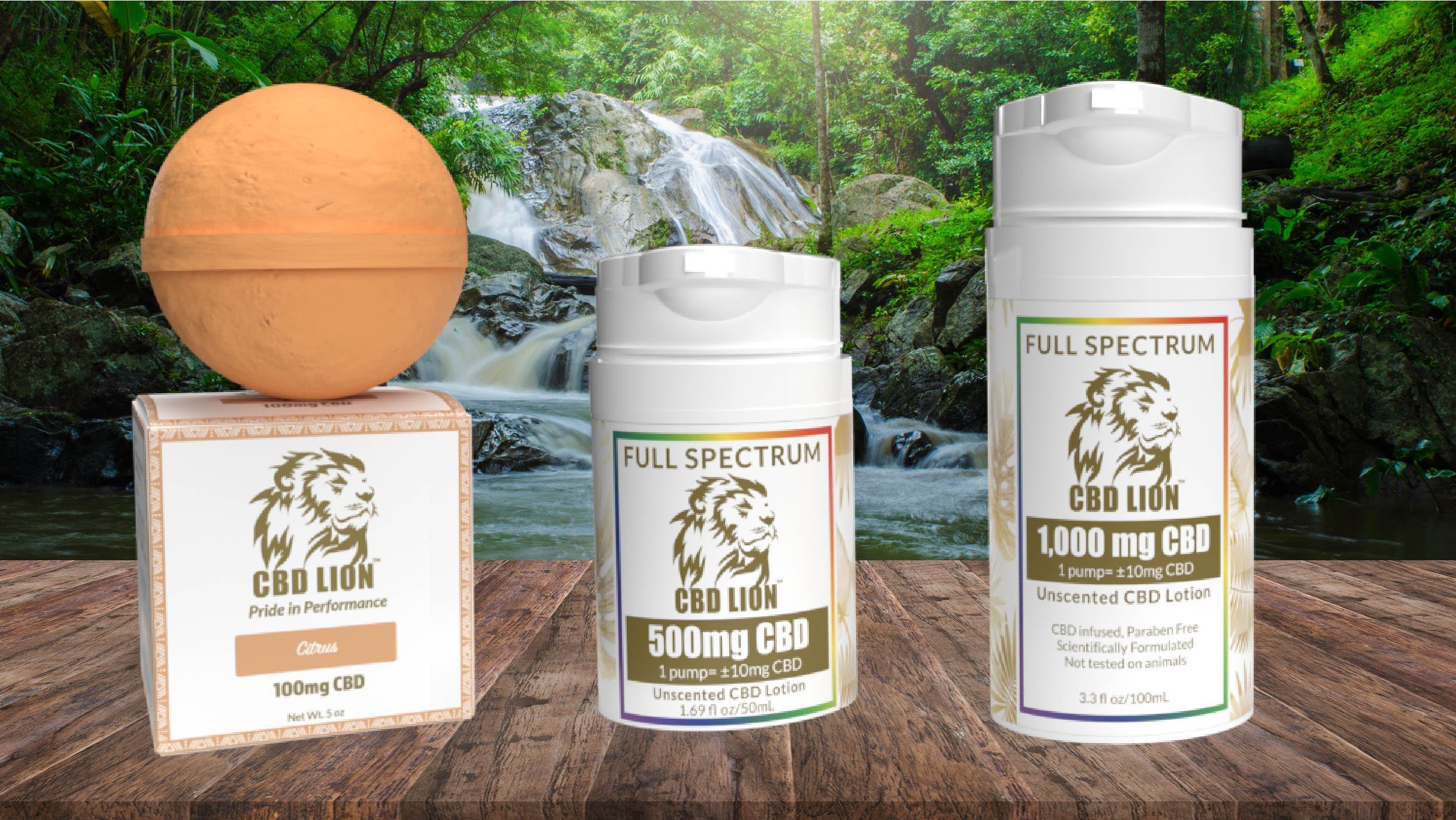 At CBD LION, all of our Topical products have one strength concentration per type of product. There are different potencies between the lotion, roll-on, tape, and bath bomb.
10mg
Our CBD Patch and Sports Tape have a consistent amount of CBD per section. The back has the amount of CBD, and you can dose it by the number of sections you put on. Each section has 10mg of CBD and is designed to adhere for 24-48 hours.
100mg
Each CBD LION bath bomb has 100mg of CBD Isolate infused with a specific essential oil. This is considered a high strength bath bomb and provides a relaxing experience.
500mg
Both of our Isolate and Full Spectrum lotions are available in a 500mg travel size. These lotions have the same strength of CBD as the larger 1000mg bottles. These are convenient and can be taken on a carry-on bag through airports.
1000 mg
The full size lotions and roll-on come in 1000 mg sizes. The lotion is about 10mg of CBD per pump.
Lotions are available in both Isolate and Full Spectrum CBD versions. The roll-on is an isolate product.
Common CBD Strengths: Edibles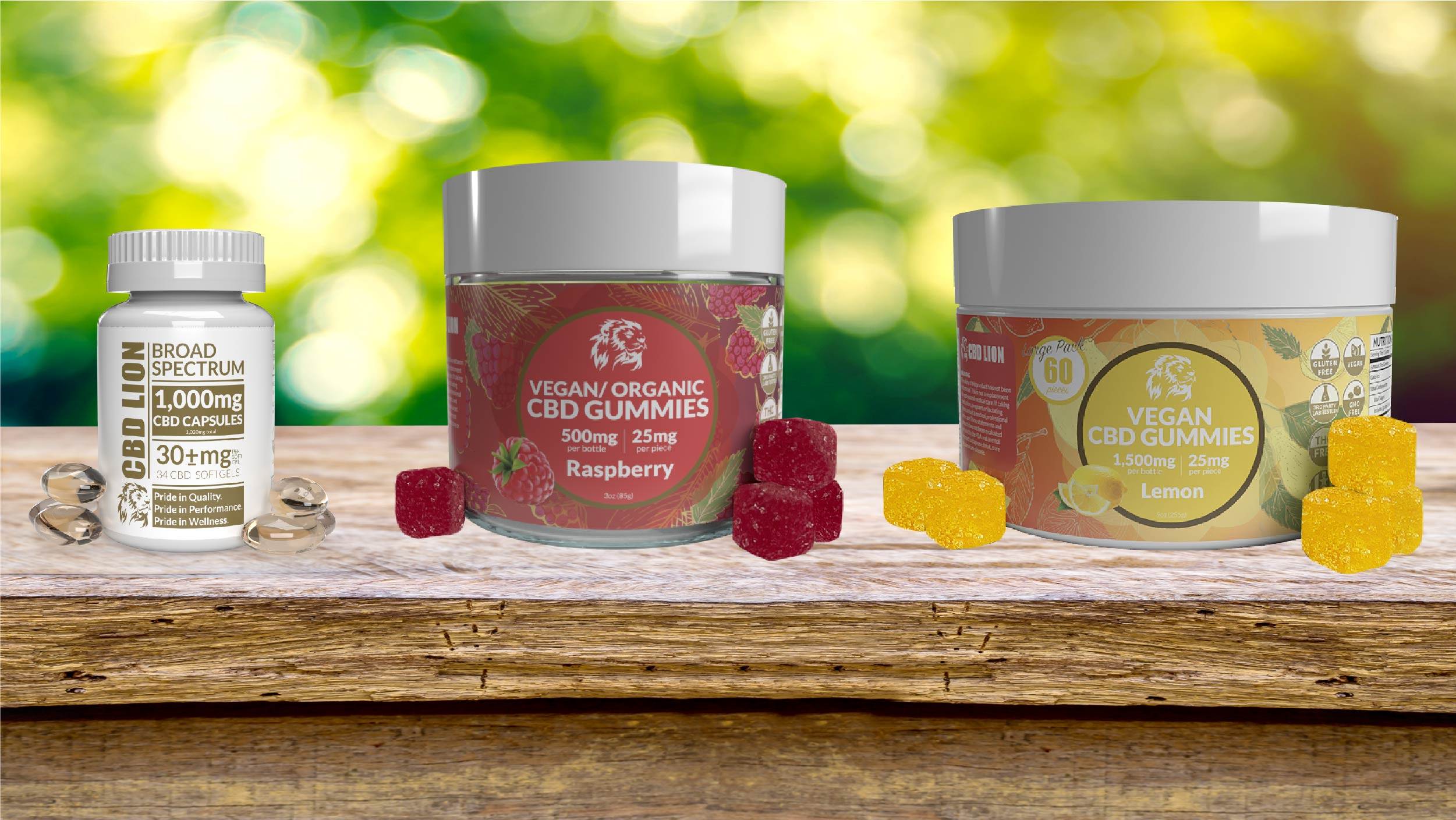 Edibles are a customer's favorite at CBD LION. We have a range of CBD strengths in our edibles ranging from 20mg to 30mg.
10mg
We did have 10mg CBD gummies at one point but have since been discontinued as most people favored 25mg.
20mg
Our CBD chocolate is a dream for anyone with a sweet tooth. It's available in Dark and Milk chocolate. It is made with a full spectrum CBD oil, so there are traces of THC in this particular product.
Each bar has 300mg, with each cube being a service size of 20mg of CBD.
25mg
All of our CBD gummies now contain 25mg of Isolate CBD. The slumberberry does contain 3mg of melatonin for sleep.
30mg
The latest ingestible product we added is the Capsules. Each capsule contains 30mg of Broad Spectrum CBD. They are super easy to take and made with a vegan gel cap.
Common CBD Strengths: Inhalation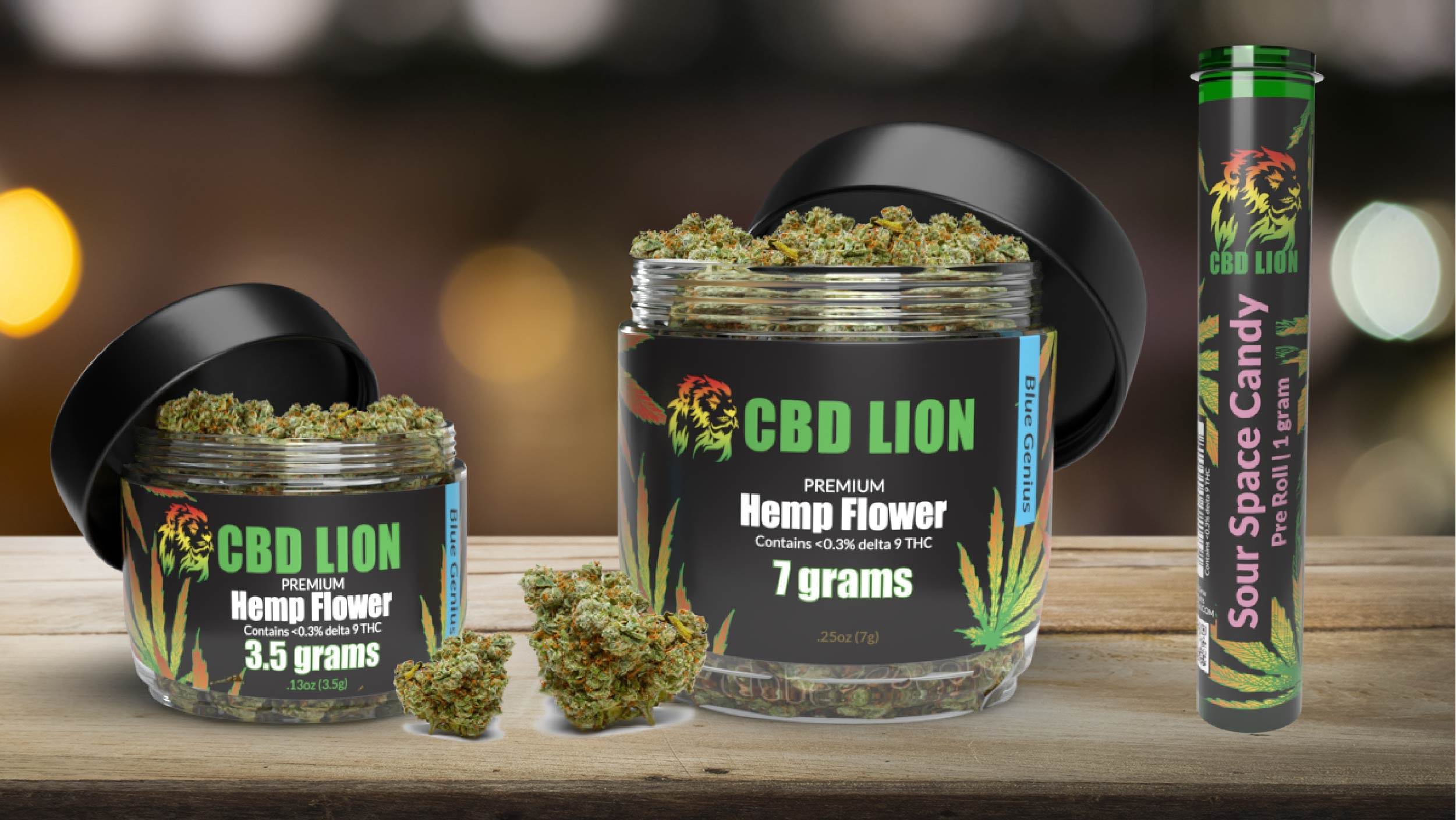 Inhaling CBD products is the quickest way to get CBD in your system. The strengths of these products can vary quite widely.
Flower
Hemp flower is not typically sold as CBD per mg. It's sold as a % of CBD by volume. Most hemp flowers have CBD in the range of 8-15% CBD of volume. There are CBG hemp flowers as well that have little CBD. Most Hemp Flower is a full spectrum product with trace amounts of THC.
Vape
The limiting factor in CBD vape products is stability. The more CBD added to the carrier oil, the less stable it becomes. In 0.5mL tanks, the concentration ranges from 50mg to 220mg on average.
Figuring out the right strength for you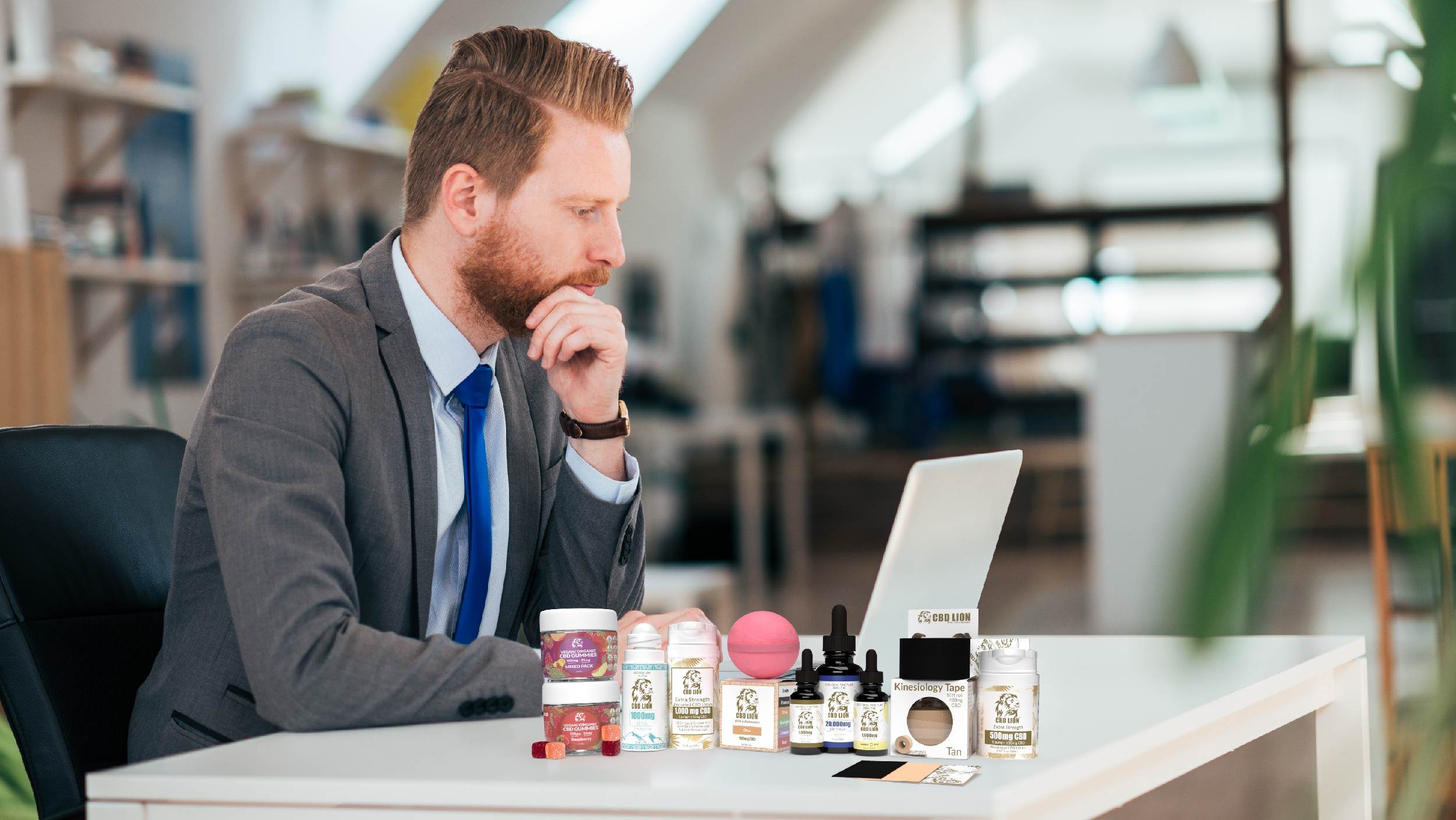 When it comes to picking out the strength you need, there are a couple of ways to go about it. Weight, ailment, and age are the most significant factors determining how much CBD you'll need to take.
It does require experimentation as everyone processes CBD oil differently. We go into full detail in our Dosage article here to help determine your starting point.
Most popular CBD strengths
All of our CBD products are high quality and are produced with the best practices, but some products seem to stand out more than others when it comes to people purchasing them.
Most popular strength: Sublingual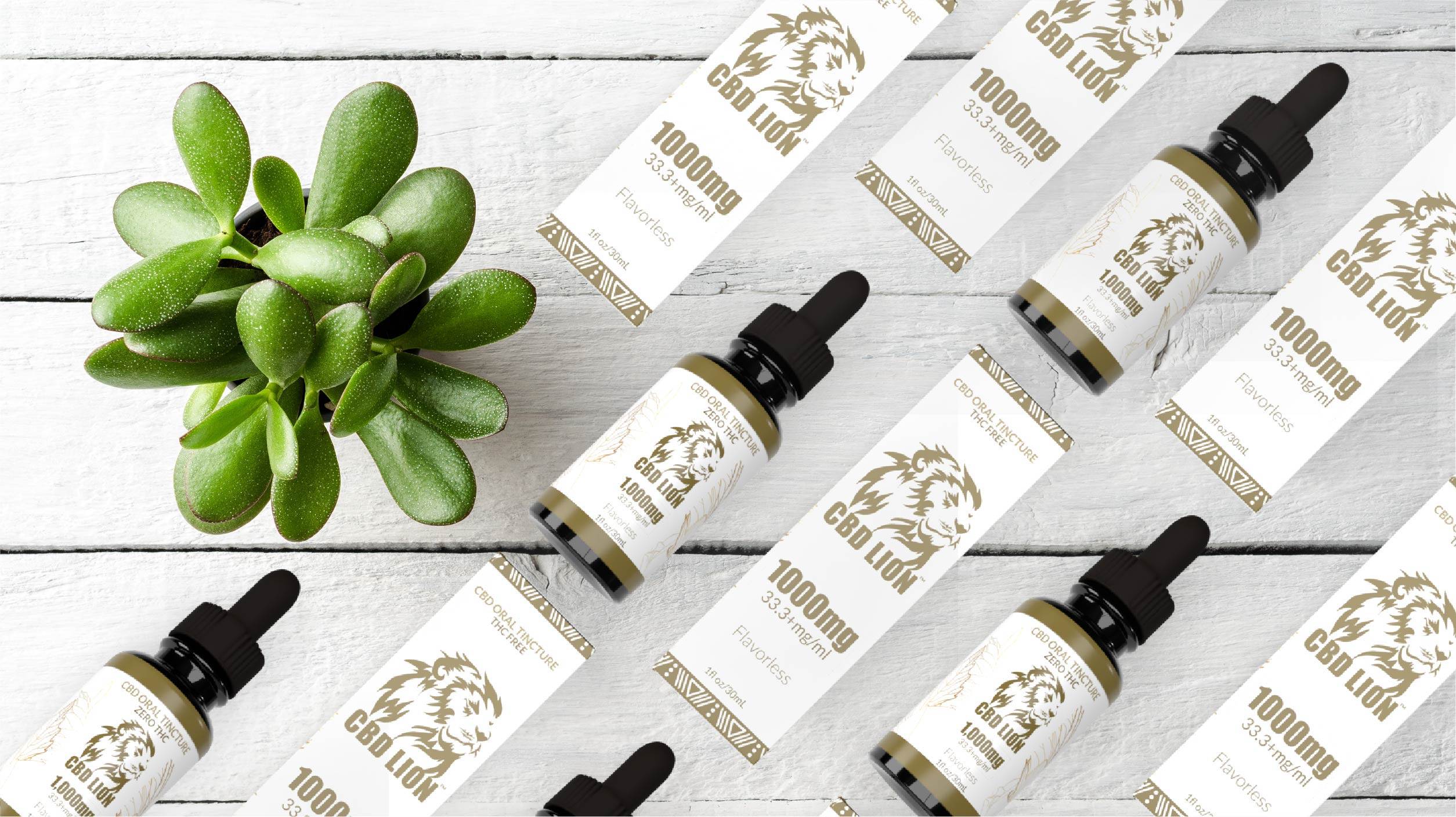 CBD oil tinctures have the most significant variety in strength, but there is one clear winner.
33.3mg/mL
Some think the most potent CBD oil is the best seller. The 33.3 mg of CBD is by far the most popular strength when it comes to tinctures. We expanded this strength to 27 different SKUs, way more than any other strength. Most customers say this strength works the best for them, and the price is just right.
Most popular strength: Topical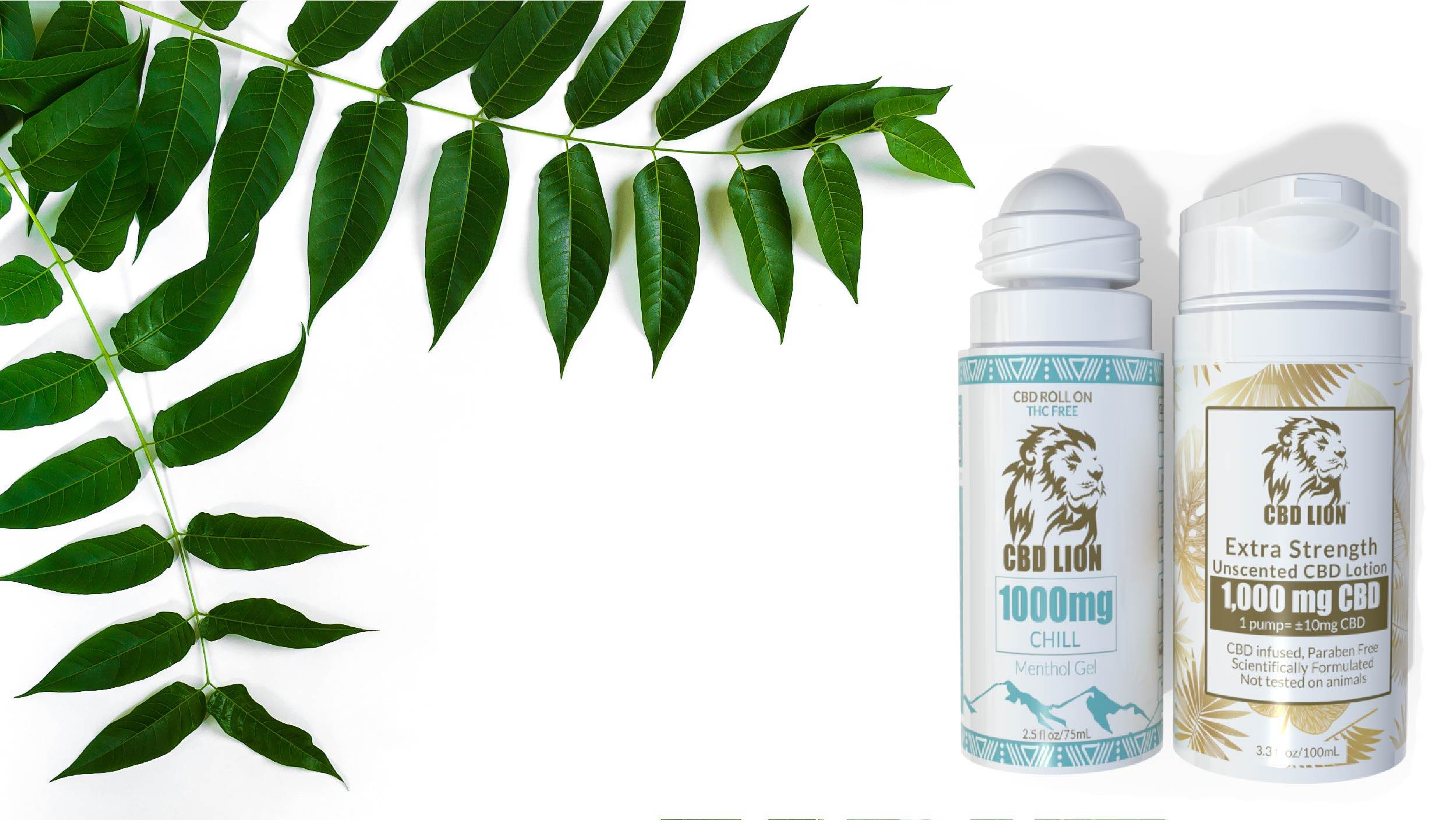 Topical products have a wider variety when it comes down to different products. Each product has a particular strength, so it comes down to the lotion and the roll-on selling the best to determine the most popular strength.
1000 mg CBD
Like the tinctures, people gravitate to the 1000mg lotion and roll-on for their topical needs. We tested lower strength lotion-like 300mg of CBD, but the 1000mg one continued to win out.
Most popular CBD Strength: Edibles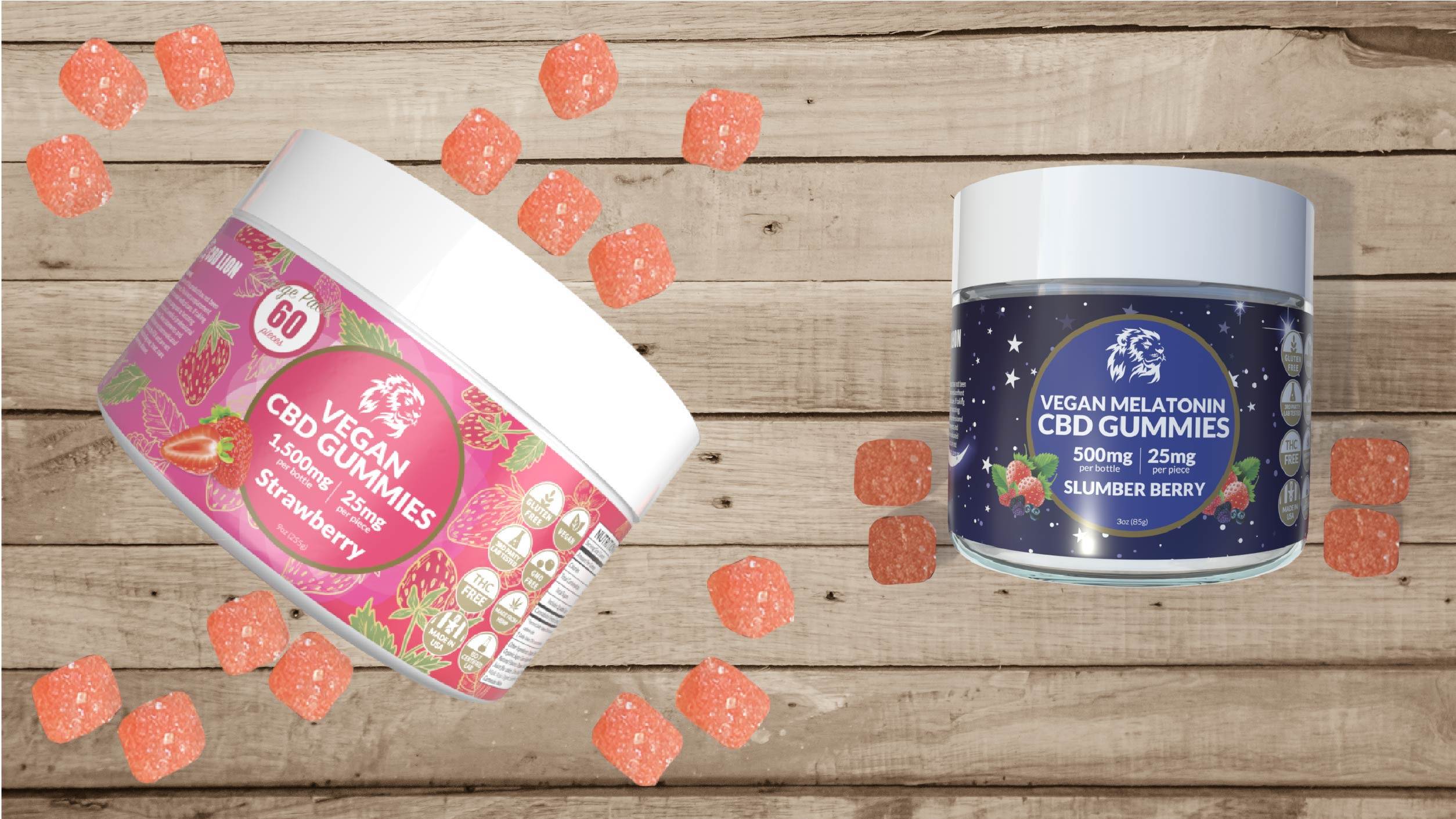 Like the topicals, we released multiple strengths in the edibles and let the market decide.
25mg
When it comes to CBD infused edibles, the runaway winner is the 25mg per cube gummies. It's a strength that most people get the relief they want out of.
Product Recommendation Finder
The most popular strengths may work for you, but you should take our CBD product quiz first. It'll help you determine the best product and concentration of CBD to start at.
You can access the recommendation quiz here.
About CBD LION Products
Here at CBD LION, our number one priority is to provide you with a high quality product you'll come to love. To get a high quality product, you need to start with high quality hemp!
Our hemp is non-GMO and organically grown hemp. The hemp oil is then extracted from the flower and is third party lab tested before making it to our product. We then mix the hemp extract into our products in our ISO 7 certified cleanroom. Once the product is ready, we third party lab test it again for CBD potency and purity.
All third party testing lab results are available on our website and accessible by QR code on every product. Each batch is listed with a corresponding test result. Make sure any company you consider has this before buying CBD oil.
In conclusion
The market features many products with a different concentration of CBD. Still, there are some runaway winners when it comes to the most popular CBD products.
You may have thought high potency CBD oils would be the most common but the mid-range rules all. When picking a product, don't be afraid to start low. You can always take more and purchase a stronger version the next time.